Case Study: JRC Transportation
Focus on rebranding and recruitment
JRC Transportation was a 30+ year-old trucking company that has been successful in achieving continued growth over the past two decades. They had big plans for the future and needed to transition to the next level which entailed updating both internal systems and their brand. The transportation industry, specifically trucking, offered unique challenges, in that truck drivers have an incredibly high turn-over rate, which is a big concern for most trucking companies.
After a website and company goal assessment, we determined that a multi-step solution was needed to achieve their goals.
Their current site at the time was dated, not mobile-friendly, and did not reflect the look, feel and experience you got when you visited and worked with the company and its staff.
Their online presence was limited and did not reflect the company as a whole or focus on the niche market that they occupied within the industry – that being a 100% owner-operators fleet.
Their main goal was to get more drivers – experienced, professional drivers.
There is service to customers was very good but what they needed was to do a better job of storytelling through re-branding.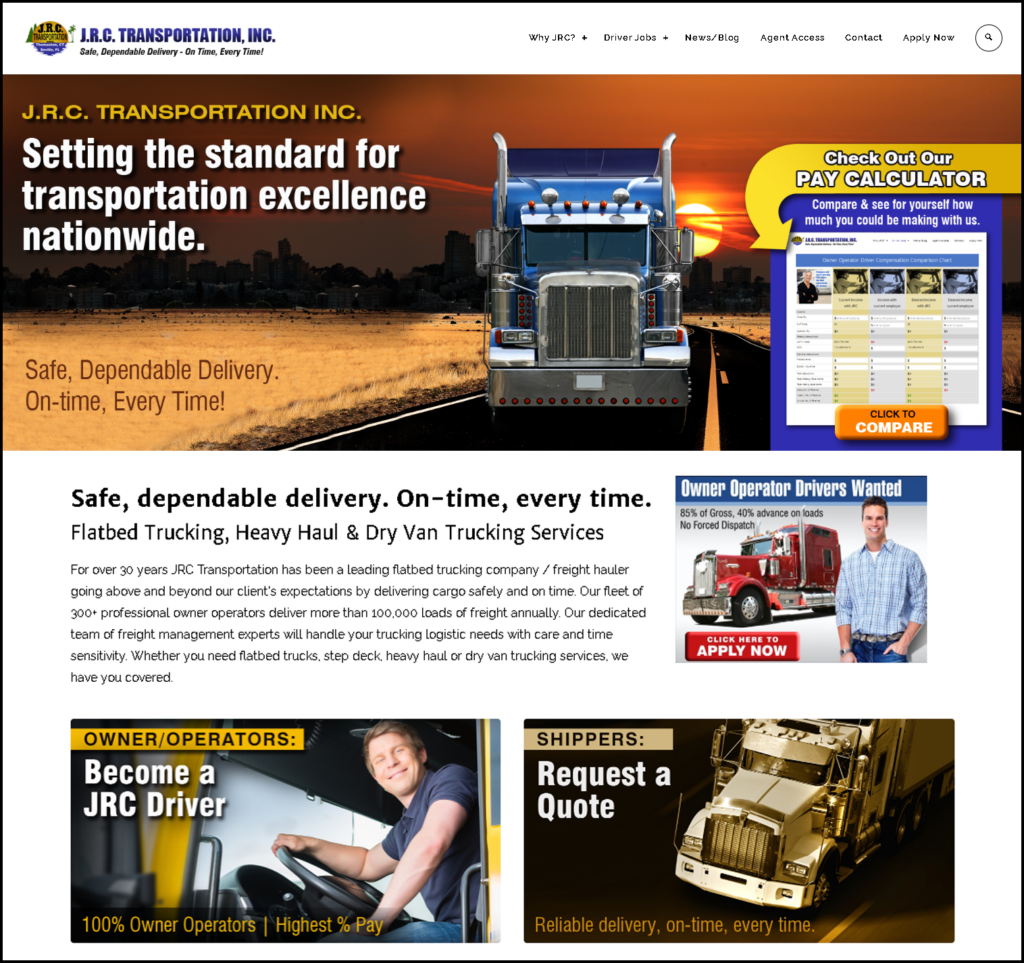 Phase 1: Branding or Re-branding
Website redesign
We developed an attractive, responsive website designed to build their updated brand identity and optimized to increase traffic.
We clearly explained and promoted their unique niche, having a 100% owner-operator fleet – which means that they don't have regular company drivers but all their drivers were business owners themselves.

This is a unique benefit and distinction that sets them apart from other trucking companies. Because Owner-operators are business owners themselves, they tended to be more professional, more responsible, more safety conscious, and business-savvy drivers.
You can see a remarkable difference between the old site and the new one (shown right). The new site is responsive so it is mobile-friendly. It is visually easier to read and navigate. It is filled with quality, relative content that truck drivers will find useful.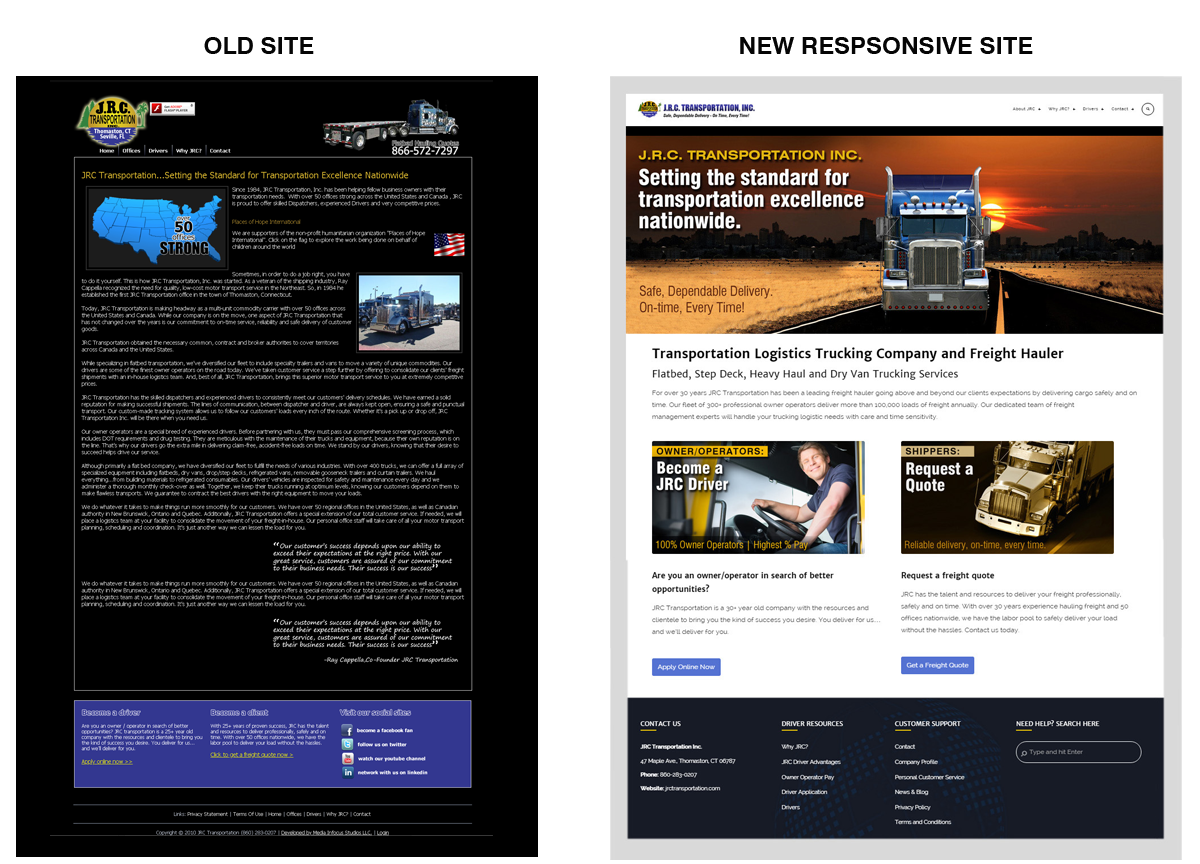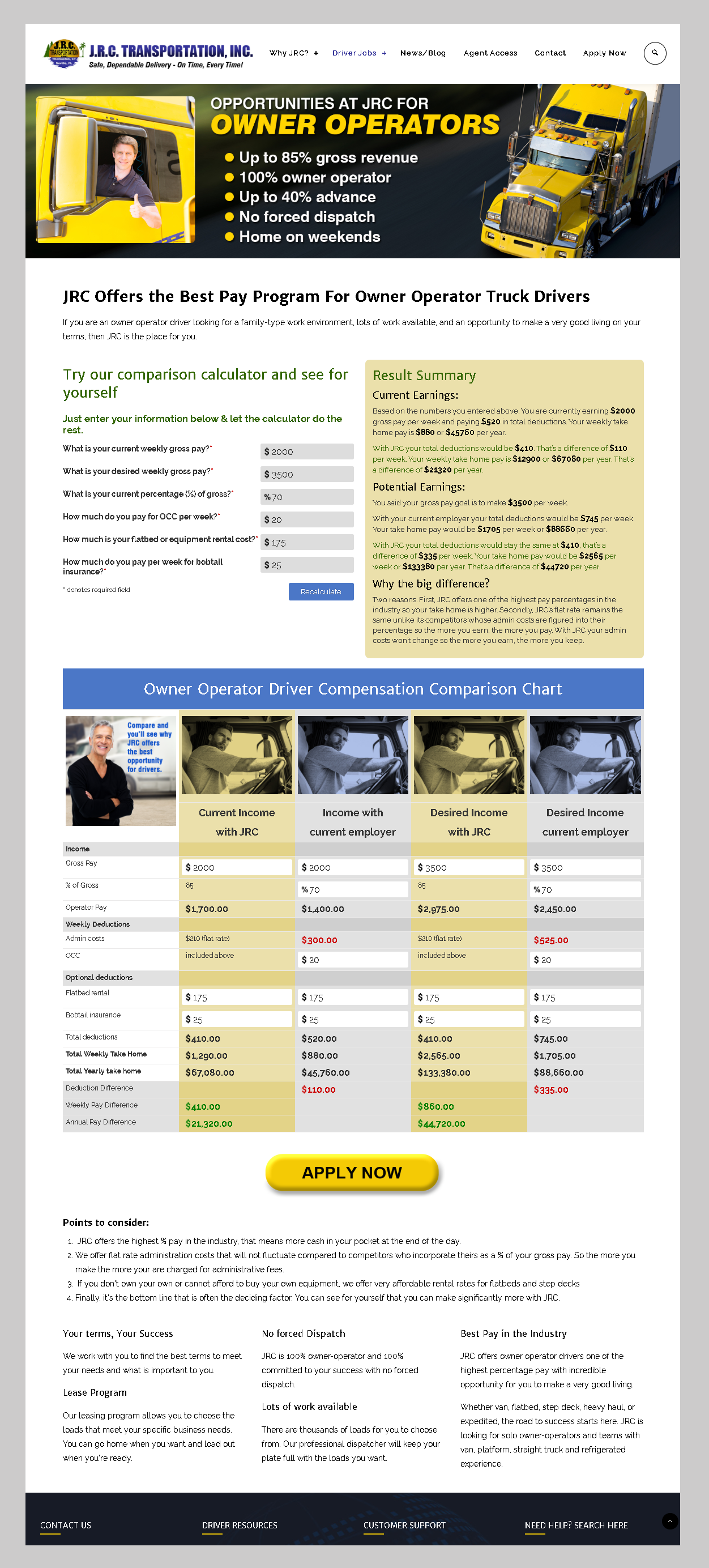 Customized Landing Page
We combined layout, graphic elements, optimization, customized applications, and usability factors to create target landing pages focused on enhanced user experience.
For recruiting we developed a custom competitor salary calculator. Drivers are typically paid by the mile or by percentage. We created an easy-to-use comparison tool that would allow drivers to enter what they are making at their current employer and compare it to how much they would make at JRC.
The page starts with a clearly targeted banner that highlights the owner-operator benefits at JRC
The calculator will auto-fill the visitor input data into an easy-to-read summary that clearly explains the differences and how the numbers were calculated.
For more visually oriented visitors, the tool also displays the data in a side-by-side comparison chart format.
Finally, a clear call to action to close the deal and get visitors to apply online.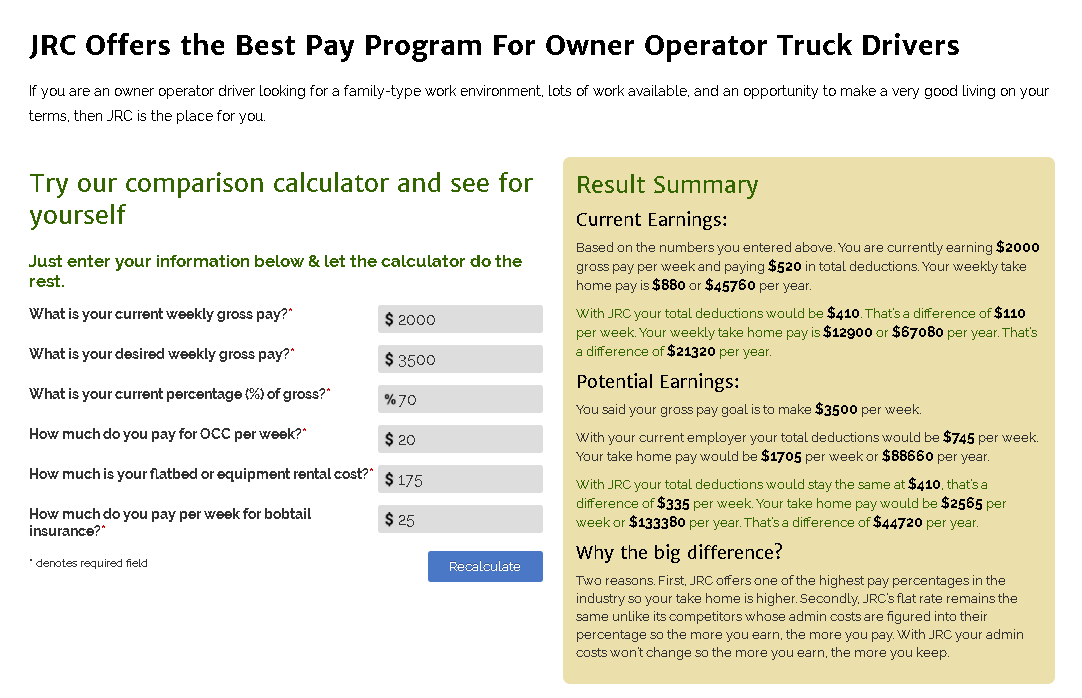 Content development
We created regularly scheduled, quality content geared towards truck drivers and to build online authority within the industry.
Safety and excellence are two important factors that are weaved throughout the website, marketing, and daily interactions with the staff.
Another quality of the company that previously did not come across online was – family. The employees, dispatch offices, and drivers were like a big family and they genuinely cared about each other and that attitude showed through to their customers as well. This friendly family feeling is something that we wanted to bring forth through storytelling.
We created content geared towards drivers, their families, and their businesses. By adding categories such as safety, lifestyle, regulations, and business tips to the blog content we were able to tap into the truck driver community. This was a big part of updating their brand identity.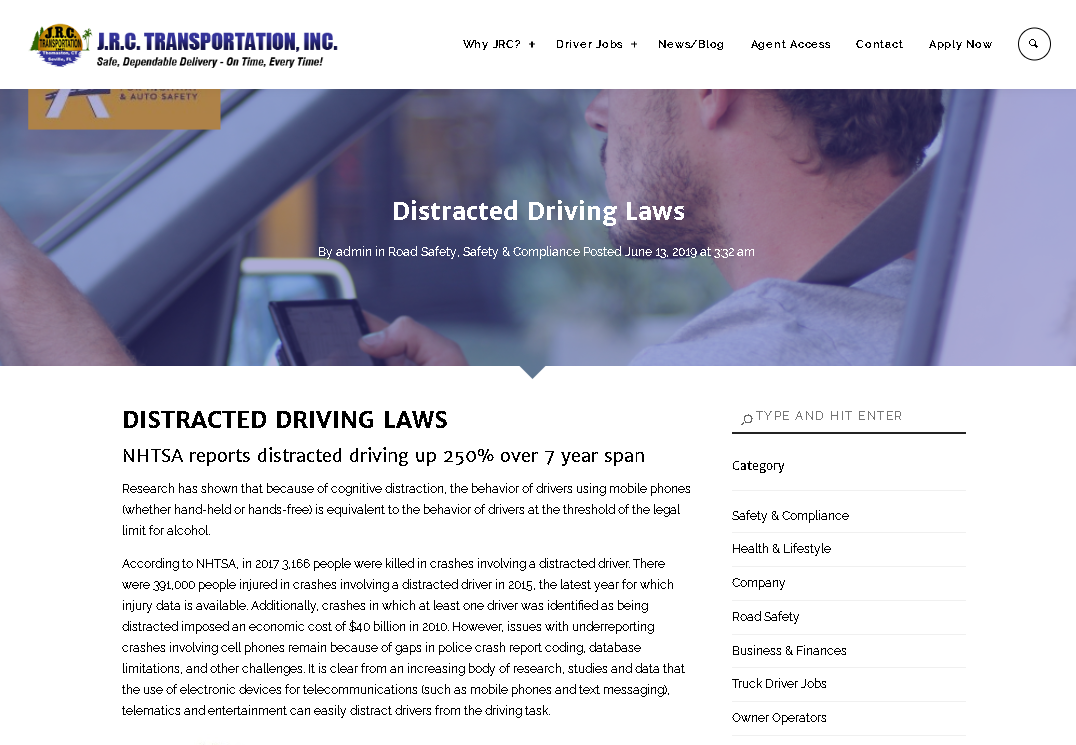 Phase 2 – Advertising
The second area that we were tasked to improve was their advertising ROI.
Our first step was to implement better lead tracking analytics that allowed us to make strategic adjustments of 3rd party advertising vendors and eventually bring all advertising in-house with greater control on spending. Through A/B testing on google and Facebook ad campaigns for customized landing pages, we were able to consistently increase the quantity and quality of leads.